Peter Borlase, the Kiwi born prop who left Ireland this month after three years in Ireland summed up the current "project player" system quite well. His explanation was simple: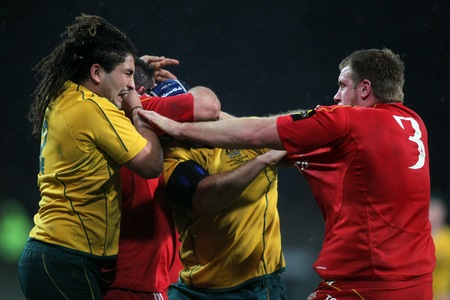 As close as "Project Player", Borlase came to international rugby
"I'm going to Ireland as a project player and that basically means you go through the IRFU. It doesn't necessarily mean I am going to play for Ireland but there is that option there".
Leaving aside the moral arguments doing the rounds amongst the rugby fraternity regarding this policy there must surely be questioned over the success of such a system. By definition you are targeting players that are not born in Ireland, who have no parents or grandparents hailing from the Emerald Isle while also never having played international rugby, international A rugby or rugby sevens for another nation. It will therefore be no surprise that this project has been a failure with none of these especially chosen project players ever earning a cap.
It makes me wonder whether there are not better projects that the IRFU could put in place; projects that would yield far great rewards to the national team. As that dreadful encounter in Twickenham proved, the cupboard is looking quite bare when it comes to scrummaging props. The whole project player scheme seems currently to be addressing our deficiencies in the front row but there is more than one way to skin a cat.
Identifying players in Ireland who although not necessarily international class yet could be with resources from national team.
We have seen plenty of good scrum performances this season from Ulster prop Declan Fitzpatrick. However, he is too unfit to last a full 80 minutes and is a long way off the pace needed for international rugby. Rather than spent 3 years hoping that Peter Borlase or Rodney Ah You decides take the green, why not select Fitzpatrick as a project. Give him the chance and the resources to develop his fitness.
Was substituted by Hansen after 30 minutes for being unfit
We need look no further than across the seas to our Celtic cousins the Welsh, who will be aiming for four wins on the trot over the Irish in the 6 Nations. Adam Jones was an overweight player labelled too fat for the professional game according to pundits such as Zinzan Brooke and former Wales coach Steven Hansen. However the help given to him by coaches Lyn Jones and Gatland turned the prop from the "30 minute man" into a truly world class tighthead with sound motivation. Rather than criticise his weaknesses they focused on what he could do - scrummage well - and maintained that fitness could be worked upon and improved. We did the same thing with Cian Healy following his absolutely disastrous Heinken Cup semi final performance against Toulouse in 2010 where he was scrummed off the park. Maybe the use of the carrot instead of the stick could work well in Ireland. If there is one thing I am noticing more and more it is that pundits, coaches and fans are focused more on what players do badly instead of do well. Declan Fitzpatrick is unfit, Ian Madigan doesn't kick goals as well as our other guys, Simon Zebo is a suspect defender, Darren Cave is a little too slow etc.
Ensure that our developing players are getting the game time that they need.
There is no substitute to gametime when it comes to player development. In years gone by a thriving All Ireland League when Shannon and Ballymena and Garryowen and St Marys would send out their provincial players on a regular basis. Now realistically this is now not always possible due to the Pro 12, British & Irish Cup, Heineken Cup, International Rugby etc. However despite reports of increased demands on players with more and more and more games, this is mainly true for the top class English and French players. If you are an average player for Munster / Leinster / Ulster how much gametime can you expect to see and is it really enough? Is the quality of the matches you are playing good enough? And can the constant stop-start nature of moving between club and provincial A team and provincial league team really lead to a top performer.
It is no problem to get game time when Irish internationals are your competition due to the intense rest periods they are afforded. However when you are up against foreign players whose only job is to play for the province it is a little harder to come by. And with BJ Botha, Wian du Preez, Heinke van der Merwe, Nathan White, Rodney Ah You, Peter Borlase and John Afoa all propping up our provincial front rows it is no wonder that props John Andress, Tony Buckley, Timmy Ryan and Dave Ryan have all moved onto pastures new as the likes of Peter Bracken and Mike Ross did before them.
Ensure that players who depart Ireland are not simply gone and forgotten.
This is also crucial. It is one thing for players to head abroad to learn new skills and develop their game with constant matches. However it is useless if they are forgotten about. To the IRFU's credit they have always tried to seek out the lads doing well abroad and bring them home to help the provinces. Leinster captain Leo Cullen and his deputy Shane Jennings brought new skills and a new mentality back to Ireland with them following their stint at Leicester Tigers. Eoin Reddan returned to Ireland from London Wasps as a proven performer with a Heineken Cup winners medal to his claim. Next season we will see Northampton Saints duo Roger Wilson and James Downey return to Ireland along with Tommy Bowe who has seen his best form for Ireland coincide with working with the fantastic Shane Williams at Ospreys.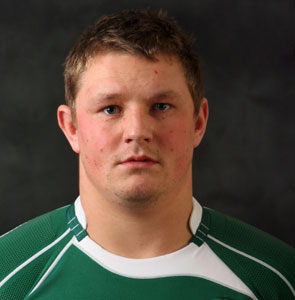 Neglected: Andress' has just 1 appearance for Ireland A
While we have excellent foreign props with contracts lasting for the next few years, there is nothing to stop us looking at our guys playing abroad for the national team. John Andress who has been a staple of the English Premiership for several years with both the Exeter Chiefs and Harlequins could bring a lot to the national team. He will be at Worcester next season. Similarly there is surely fight in Timmy Ryan yet. Although he is one who has always flattered to deceive he proved his promise against the All Blacks in 2008-2009. Since then he has gone on to play in France, England, Italy and now Wales. I fear for the amount of gametime he will see for the Newport Gwent Dragons in the coming months. However I do think that it is worth keeping tabs on these players and ensuring they do not slip through our fingers.
As I say, although the current project player system seems to make sense for the IRFU, it is not yielding benefits. The only project player in our history who looks remotely likely to represent Ireland is Richardt Strauss who plays in a position we are already quite strong. Rather than provide the national team with new options at prop, it has in fact limited our options with foreign players while turning our back on guys who could be decent with the right work and dedication. They say that props are late bloomers - lets make these guys the projects of the future.